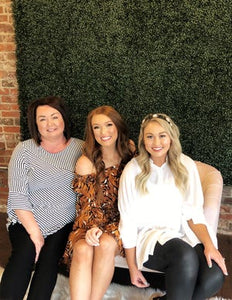 About Gracie Lee's Gifts and More
During quarantine, Michelle Mears and her daughters, Gracie Mears and Makenzie Leslie, reflected that what they missed most was being together and celebrating the little and the big things.
The trio had dreamed of opening a business together, perhaps a mobile boutique, so when the "For Lease" sign went up outside a former vacuum repair store in Fountain City, Michelle Mears said it was a sign that was meant to be. "We signed the lease and it all just came together," said Mears.
Gracie Lee's Gifts & More boutique – named after the sisters' first and middle names – will celebrate its grand opening 4-7 p.m. Friday, Sept. 4. "We will have a 'sip and see'," said Leslie. "The first 50 people will be given a goodie bag when they arrive, the balloon bar will be set up and the Flourish Flower Truck will be here as well."
The trio started sourcing store merchandise in June and redecorating the interior of the space on Aug. 9. "We had everything stored in our dining room," laughed Leslie, adding that it's been like Christmas opening up all of the boxes and arranging it in their new store.
"We have things to celebrate every milestone, from babies to graduation and beyond," said Michelle Mears. "Celebrating weddings, the different holidays with the people you love."
Real estate agent Michelle Mears will continue helping her clients while she is a "not so silent" partner in the boutique.
"We all have full-time jobs but have come together to do this," said Makenzie Leslie, who is a special education teacher at Brickey Elementary School. Sister Gracie Mears is pursuing a nursing degree full time and still runs the makeup business that she started when she was a Halls High School student.
North Knoxville residents will soon be able to shop for apparel, home décor, jewelry, baby and wedding gifts as well as party décor.
Each of the women has focused on an area of the shop that plays to her strengths and passions.
Gracie Mears buys the apparel and jewelry. "I wanted to bring something to Knoxville that we haven't seen outside the bigger cities before, and all at different price points," she said.
Leslie said she brings the sparkle, confetti and balloons for celebrations. "I will have a custom balloon bar and you can customize celebratory balloon bouquets," she said.
There will be a big emphasis on the gift-wrapping experience. "You can come in and pick out a gift or we can help put something together for any event or person in your life and have it wrapped to go – even add a couple of balloons," said Gracie Mears.
The store is filled with items made by small – and often local and female-owned – businesses, including a limited edition soap made just for Gracie Lee's. "The girls have tied it all back to our community and supporting other small businesses," said Michelle Mears.
"The space speaks for itself," said Leslie.  "We wanted to play into the exposed brick and add our own touches such as the box hedge wall for Instagram."
They plan to make the most of the highly visible storefront windows with eye-catching displays and hand-painted signs. "How could you not play into those windows?" said Leslie.
"I love the sense of community," said Michelle Mears, a lifelong Halls resident. An artist will soon start work on a "Welcome to Fountain City"-themed mural on the north side of the building. Gracie Lee's will also sell North Knoxville- and Fountain City-themed art, stickers, pillows, coffee cups, tea towels and sweatshirts.
Our Hours
We look forward to seeing you in our store!
5435 N Broadway Street
Knoxville, TN 37918
Monday - Friday 10:00-6:00
Saturday 10:00-4:00
Sunday CLOSED