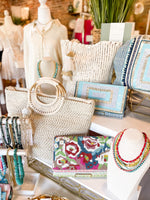 Accessories
At Gracie Lee's, we offer accessories for every occasion and every budget. Some of our popular items include one-of-a-kind polymer clay earrings, jumbo scrunchies, World's Softest Socks, and TELETIES.
Our most popular line of jewelry is Farrah B. The brand includes 14k gold plated pieces that are handmade in Texas and fully customizable to your liking. Visit our charm bar and create unique necklaces, bracelets, and earrings that match your style perfectly!
At this time, our accessories are not available to purchase on our website. Sign up for our newsletter to get updated when our accessories go online!